"The art of cooking is among the most intimate things we can do for another."
~ Charlie Trotter
Honest to Goodness makes a personalized difference in your food lifestyle. We are a diverse team of food specialists who serve busy, health-minded professionals and families who are looking for meal delivery services. Our personal chefs cater to special dietary needs and home entertaining occasions. We love bringing our talent to your table!
What Your Personal Chefs Do For You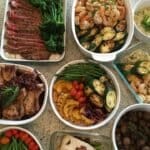 Good Meals
Your Personal Chef from Honest to Goodness will come to your home to cook for 3-5 hours at a time. He or she will prepare 3-6 meals (2-6 portions per meal) for you and your family to enjoy for weekday dinners. Each week's menu plan is customized to your individual preferences. Our focus is on fresh weekday dinners, however we can also make breakfast, lunch, dessert, and snack items for you. Drool over more delicious pics of our cooking on our Instagram page. Once the cooking is done, your meals are stored in your refrigerator and your kitchen is cleaned!
Grocery Shopping & Grocery Delivery
Save time and avoid the grocery store lines by calling on our Personal Chefs to do your shopping. We love local markets and grocery stores, and know the best food pricing to save you money.
Party Planning

You have many reasons to celebrate at home. Are you hosting a birthday party, a girls' or guys' night, baby/bridal shower, wedding, client appreciation, holiday feast, housewarming, or even a memorial service? Our team has years of professional career experience planning parties and events of all sizes and budgets.

Having large groups of people to your home is stressful, from menu planning to grocery shopping to cooking. Not to mention the pile of dishes to clean up at the end. Honest to Goodness handles all of these details with ease, ensuring you can enjoy time with your guests, delicious party food, and a clean kitchen at the end of your event!
Cooking Lessons

For those who want to learn how to cook, our Personal Chefs will meet with you one-on-one for hands-on cooking instruction in your home. Learn simple techniques to prepare your favorite foods in healthy ways. We can also present a cooking class for you and a small group of friends to enjoy a more interactive cooking experience.
Kitchen Organization Makeover

Would you like an extra set of hands in setting yourself up for kitchen success? Our team will consult with you to achieve your specific goals. We do kitchen organization, pantry de-cluttering, spice collections, discussing better ingredient choices, how to read labels, recipe modifications, how to get dinner on the table faster, and dietary modifications. Our team will re-group your ingredients and cooking tools to be more efficient and resourceful with what you have. We will also advise on streamlining your equipment and donating any extra supplies to local shelters. You will come home to a better-organized kitchen!
A typical makeover package includes 4 hours of one-on-one time in your home plus some email and phone time before and after. Your makeover package is customized however you need to make sure your kitchen works for you. Additional time may be purchased depending on what you need.
Advice
Have questions on what types of cooking supplies to have? Believe it or not, you don't need as much as you think. Which is better for your pots and pans, stainless steel or non-stick? How long does non-perishable food last, really? Our team can guide you through even the most basic questions to ensure your cooking comfort.