Hire a Chef for Help in Your Kitchen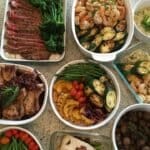 Weekday Dinners
Your Personal Chef from Honest to Goodness will come to your home to cook for 3-5 hours at a time. He or she will prepare multiple meals (2-6 portions per meal) for you and your family to enjoy as weekday dinners. Each week's menu plan is customized to your individual preferences, and we do your grocery shopping for you. Our focus is on fresh weekday dinners, however we can also make breakfast, lunch, dessert, and snack items for you. Once the cooking is done, your meals are stored in your refrigerator and your kitchen is cleaned! Drool over more delicious pics of our cooking on our Instagram page.
Entertaining at Home

Having large groups of people to your home is stressful, from menu planning to grocery shopping to cooking. Not to mention the pile of dishes to clean up at the end. Honest to Goodness handles all of these details with ease, ensuring you can enjoy time with your guests, delicious party food, and a clean kitchen at the end of your event! Learn more about our home entertaining events.
Cooking Lessons

For those who want to learn how to cook, our Personal Chefs will meet with you one-on-one for hands-on cooking instruction in your home. Learn simple techniques to prepare your favorite foods in healthy ways. We can also present a cooking class for you and a small group of friends to enjoy a more interactive cooking experience.
Kitchen Organization Makeover

Would you like an extra set of hands in setting yourself up for kitchen success? Our team will consult with you to achieve your specific goals. We do kitchen organization, pantry de-cluttering, spice collections, discussing better ingredient choices, how to read labels, recipe modifications, how to get dinner on the table faster, and dietary modifications. Our team will re-group your ingredients and cooking tools to be more efficient and resourceful with what you have. We will also advise on streamlining your equipment and donating any extra supplies to local shelters. You will come home to a better-organized kitchen!
"The art of cooking is among the most intimate things we can do for another."
~ Charlie Trotter